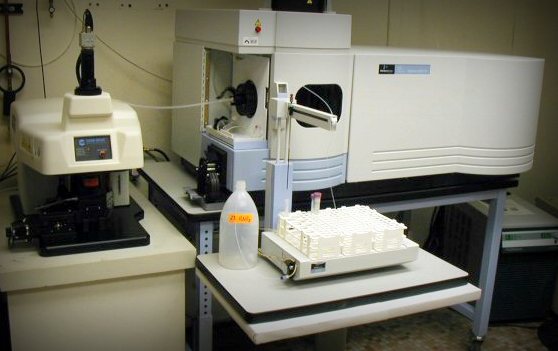 The Analytical Chemistry Laboratory is located in the second floor, room 213 of Northrop Hall, Earth and Planetary Sciences and is equipped with various types of instruments including three PerkinElmer inductively coupled plasma-optical emission spectrometry (ICP-OES) systems for majors and minors elements analysis, one PerkinElmer NexION 300D inductively coupled plasma-mass spectrometry (ICP-MS) for trace elements analysis, Flexar PerkinElmer HPLC for organics and trace elements speciation, Dionex CoulChem III Electrochemical Detector for organics analysis, flow injection mercury (FIMS) for trace Hg analysis, X-ray fluorescence (XRF) for majors and minors solid samples elemental analysis, New Wave laser ablation elemental analysis with CryoCell for biota analysis, Dionex SCI 1100 Ion Chromatography anions analytical system, and various types of samples preparation apparatus for different sample analysis techniques.
XPS AXIS-Ultra DLD, Kratos Analytical is part of Center for Emerging Energy Technologies at UNM. The XPS has both a monochromatic Al anode as well as a non-monochromatic Mg x-ray source. It is equipped with heating and cooling stage as well as two types of guns (Ar and polyatomic) for depth sputtering. This instrument currently has sub-micron spatial resolution, while spectra can be acquired from areas ranging from less than 15 microns to greater than several millimeters. The high temperature catalyst reaction cell (WX-530) allows for in-situ analysis of high temperature (up to 1000°C) catalytic reactions. XPS data analysis also utilizes a number of multivariate analysis methods for evaluation of images and spectra.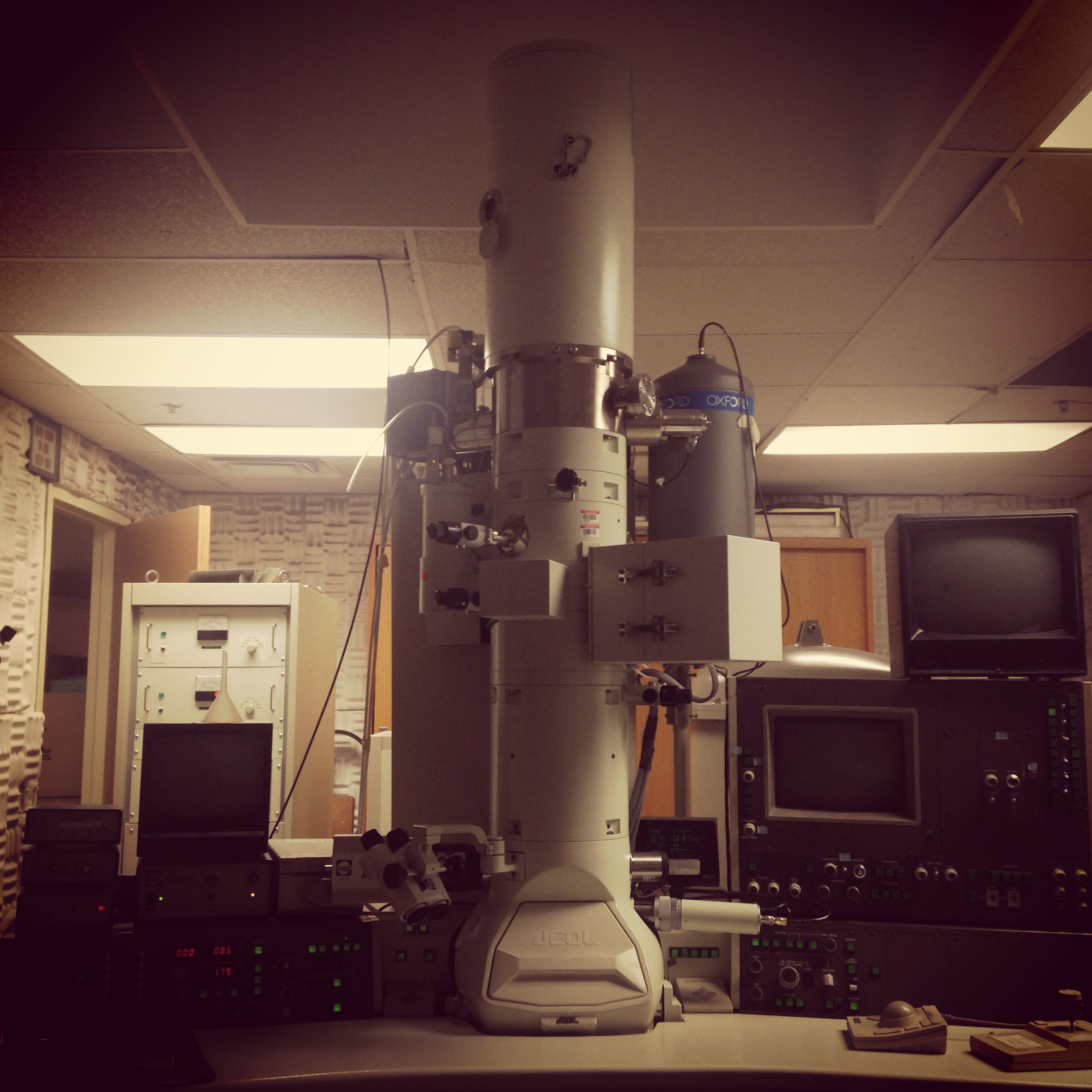 The TEM laboratory is equipped with two transmission electron microscopes. The first is a JEOL 2010 200kV high resolution transmission electron microscope capable of a 0.19 nm point to point resolution. A Gatan high resolution Orius CCD camera is fitted to the instrument allowing on-line acquisition and processing of digital images. This instrument is equipped with a new (2009) Oxford Analytical INCA 200 EDS analytical system which uses an ultra thin window EDS detector capable of detecting all elements down to boron. In 2000 the TEM laboratory installed a JEOL 2010F FASTEM TEM/STEM instrument purchased with funds from NSF and the University of New Mexico. This has an exceptional array of analytical capabilities including energy filtered imaging (EFTEM), electron energy loss spectroscopy (EELS), X-ray microanalysis and X-ray mapping at the subnanometer level, and bright and dark field STEM imaging, as well as traditional TEM techniques such as electron diffraction and high resolution imaging. Our instrument is equipped with a GATAN image filtering (GIF) system for energy filtered TEM (EFTEM) and electron energy loss spectroscopy (EELS), an Oxford ultrathin window EDS detector connected an Oxford INCA X-ray analysis system. The laboratory is also equipped with a full range of sample preparation equipment including a GATAN Precision Ion Polishing System, a GATAN Duo ion beam milling instrument, ultramicrotome (RMC Ventana), and carbon coaters.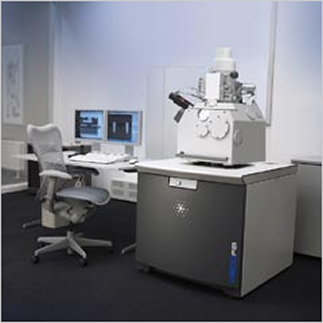 UNM installed an FEI Quanta 3D FEG Dualbeam focused ion beam/FEGSEM in the Electron Microbeam Facility in Earth and Planetary Sciences in late Fall 2008. The instrument is a high resolution FEGSEM that is also capable of a wide range of nanomachining and nanofabrication applications using the ion beam column, and will be used extensively for the preparation of site-specific TEM samples. The instrument is equipped with full in situ sample lift out capabilities for removing TEM foils from samples using an Omniprobe AutoProbe 200.2 micromanipulator. We have undergone advanced training in the lift out technique and have now attained a considerable degree of competency with the technique. In addition, the instrument also is equipped with an EDAX Genesis EDS system with an Apollo 40 SSD detector for X-ray microanalysis and a TSL EBSD system for electron crystallography. The Quanta FEG 3D is also an environmental SEM and can be used to study uncoated samples under controlled vacuum conditions.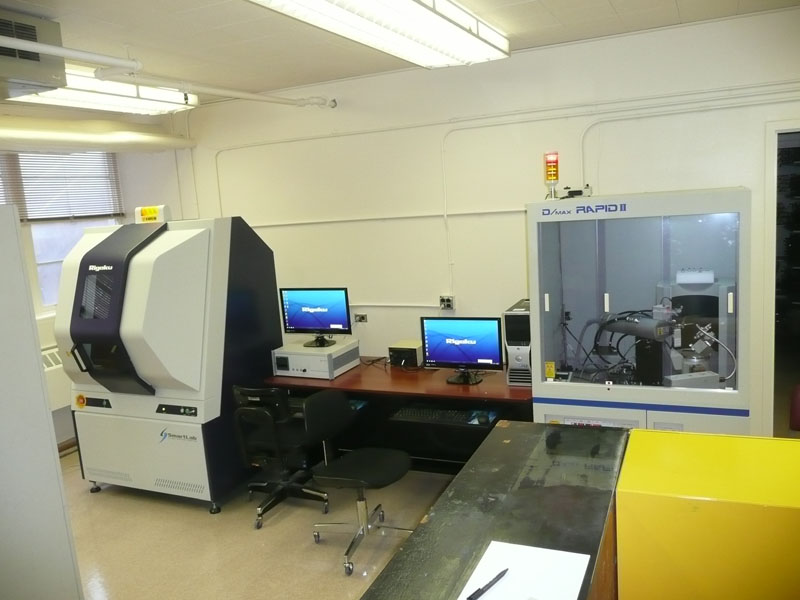 The XRD facilities consist of a Rigaku SmartLab II powder XRD instrument as well as a Rigaku Rapid microX-ray diffractometer. The Rapid instrument provides significant new research opportunities with the ability to obtain non-destructive power XRD patterns from very small samples and in situ from thin sections at a spatial resolution as high as about 30 microns.